VERONICA RUDGE GREEN PRIZE IN URBAN DESIGN
Harvard University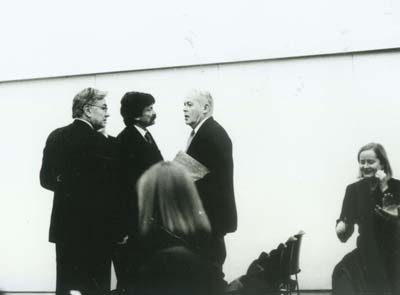 Award Ceremony in the GSD
Left to right: Peter G. Rowe (Dean, Faculty of Design, Harvard University),
Jorge Mario Jáuregui (Sixth Veronica Rudge Green Prize),
Rodolfo Machado (Jury Chairman, Sixth Veronica Rudge Green Prize),
Brooke Hodge (Director of Lectures, Exhibitions and Academic Publications, Harvard University).

The Veronica Rudge Green Prize in Urban Design was established in 1986 on the occasion of the celebration of Harvard's 350th and the Graduate School of Design's 50th anniversaries, and to mark the visit of his Royal Highness, the Prince of Wales, to Harvard and the GSD. The award is made periodically by the GSD for an urban design project larger in scope than a single building, constructed anywhere in the world during the previous 10 years. Award-winning projects are selected because they make a positive and substantial contribution to the public realm of a city, improve the quality of urban life, and demonstrate a humane and worthwhile direction for the design of urban environments.
The first award, made in 1988, was shared by Ralph Erskine, for the Byker Redevelopment in Newcastle Upon Tyne, 1969-82, and Alvaro Siza Vieira, for the Malagueira Quarter Housing Project in Évora, Portugal, 1977-88. The second prize, awarded in 1990, was given to the City of Barcelona for the Urban Public Spaces of Barcelona, 1981-87. The third prize, awarded in 1993 was shared by Fumihiko Maki for the Hillside Terrace Complex in Tokyo, Japan, 1967-92, and Luigi Snozzi for the Master Plan and Public Buildings of Monte Carasso in Switzerland, 1978-92. The fourth prize, awarded in 1996, was given to the City of Mexico City for the architectural restoration of its historical city center and the ecological restoration of the District of Xochimilco. The fifth prize was awarded in 1998 to Sir Norman Foster and his London-based firm Foster and Partners for the design of two projects that bring together elegance and accessibility in urban life-the subway system in Bilbao, Spain, and the development of the Carré d'Art in Nîmes, France. The sixth Veronica Rudge Green Prize in Urban Design, was awarded in 2000 to Jorge Mario Jáuregui Architects for a series of projects implemented through the program "Favela-Bairro".