Favelas
Exhibition at Van Alen Institute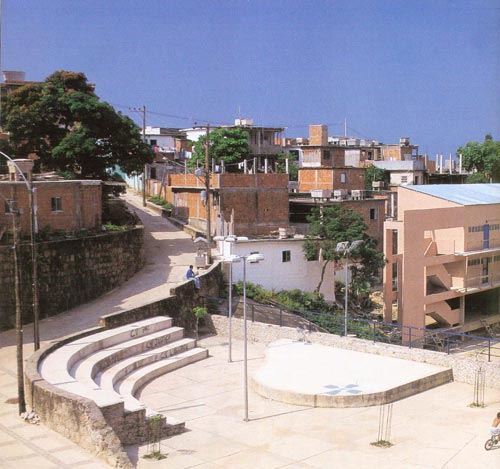 Communitary space in Vidigal
Van Alen Institute presents groundbreaking new public designs from six continents
Van Alen Institute presents "Open: new designs for public space" on June 11. This exhibition of contemporary public spaces, in development, under construction, or recently completed, represents the most innovative architecture, landscape, and urban design from cities across the globe. These projects reveal bold new attitudes and thinking about how we live in cities today and in the future, looking at the intersections of infrastructure, environment, transportation, recreation, culture, and tourism. The exhibit will be open 12-6 M-F throughout the summer with special Saturday openings (12-6) on June 14, and June 21. Lectures and related programs will be announced at www.vanalen.org.
"When 4000 New Yorkers said no to proposals for the World Trade Center site in July 2002, they were saying yes to setting a higher standard for public space and public life downtown and throughout the region. Public space is more important, and more threatened, than ever, yet as this exhibit demonstrates in June 2003, cities all over the world are designing and building extraordinary new public spaces. New York needs to seize this opportunity to show it can do the same and better, "says Raymond Gastil, Executive Director, Van Alen Institute.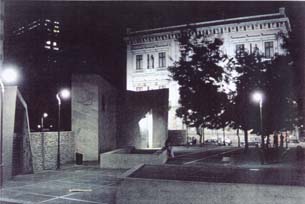 Fernando Pessoa square in Catete
The most celebrated urban spaces, places that contribute to creative metropolises, combine large-scale operations and small-scale experiences, major infrastructure with recreation and culture, and grand civic events with intimate daily interaction. Organized by VAI, with exhibition director Raymond Gastil and exhibition curator ZoŽ Ryan, "Open" draws on the expertise of leaders in art, architecture, graphic and new media design, landscape, planning, community development, and policy who have convened at the Institute over the past year.
Projects from six continents and more than 20 cities are included in the exhibit, which also features an "In the News" section on recent developments in New York's "parks to Watch" and recent competitions throughout North America from Memphis to Toronto, as well as the temporary art installations that have radically transformed our sense of how public space is used. Among the featured projects are:
∑ City Hall, Foster and Partners, London (completion 2002)
∑ National Opera House, Snōhetta, Oslo, Norway (2005)
∑ Ponte Parodi, UN Studio/Caroline Bos and Ben Van Berkel, Genoa, Italy (2005)
∑ Federation Square, Lab Architects, Melbourne, Australia (2002)
∑ Institute of Contemporary Art, Diller + Scofidio, Boston, Massachusetts (2005)
∑ Fourth Grace, Alsop Architects, Liverpool, UK (2007)
∑ Science Hub, Master Plan, Zaha Hadid Architecture, Singapore (2005)
∑ Chungmuro Intermedia Playground, Cho Slade Architecture with Kwang-soo Kim, Seoul, Korea (2002)
∑ Poplar Street, Walter Hood Design, Macon, Georgia (commissioned 1999)
∑ Favela-Bairro Project, Jorge Mario JŠuregui Architects, Rio de Janeiro, Brazil (2002)
∑ Alameda El Porvenir, MGP Architecture and Urbanism (11 mile-long pedestrian avenue) BogotŠ, Colombia (2002)
∑ A13 Highway Project, de Paor Architects, London, UK (1996-2005)
∑ Fairgrounds, Carme Pinůs, part of the new JVC city in Guadalajara, Mťxico (2006)
∑ Mori Art Museum, Roppongi Hills, Gluckman Mayner Architects, Tokyo, Japan (2003)
∑ Southeast Coastal Park and Auditoriums, FOA, Barcelona, Spain (2004)
∑ Westergasfabriek Park, Gustafson Porter, Amsterdam, The Netherlands (2003)
∑ Mur Island, Acconci Studio, Graz, Austria (2003)
∑ Memorial to the Murdered Jews of Europe, Eisenman Architects, Berlin, Germany (2005)
∑ Memorial Bridge, 3 LHD, Rijeka, Croatia (2002)
∑ Walter Sisulu Square, StudioMAS Architecture and Urban Design, Johannesburg, South Africa (2005)
"The exhibition shows projects from small interventions in previously underutilized spaces, such as a media center in a subway and an artificial island in a river, to a large urban projects like an 11-mile pedestrian and cycle path with gathering spaces and a major cultural center that provides a new meeting ground in the city," says ZoŽ Ryan, the exhibition curator. "The projects prove that public space is still a critical and thriving aspect of city life and one in wich new approaches to design are fostering interaction and exploration". The designs are organized into five themes: The New Meeting Grounds, Active Memory, The Plaza Unbound, Information in Place, and Opening the City.
Projects will be presented with hundreds of images, plans, drawings, documentary film, digital animations and models, some of which have been specially commissioned for the exhibition, in a design developed collaboratively by two emerging firms, Freecell (exhibition design) and Flat (exhibition graphic design). A related program of lectures and events will occur throughout the summer and fall. Check www.vanalen.org for details.
The exhibition has been made possible by support from The Warhol Foundation for the Visual Arts, The National Endowment for the Arts, The New York State Council on the Arts, and The Stephen A. and Diana L. Goldberg Foundation.
A catalogue will be published in fall 2003 thanks to the support of ConEdison.

Communitary spaces in the favela of Rio das Pedras