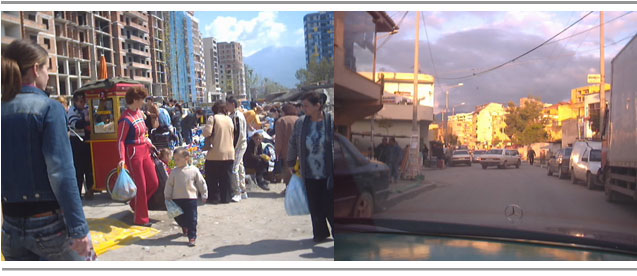 By direct request of the mayor of Tirana, Edi Rama, a study was elaborated in order to create an urban and social re-structuration of the informal areas of this city.
Beginning with the reading of the structure of the region of Tirana-Durres, the developed study has to define a methodology of approaching to the five informal areas identified by the Prefecture of Tirana, to start elaborating a preliminary study for the urban, social and environmental re-structuration of the so called area Allias, considered as exemplary case.
The team that developed the requested plan for Tirana was composed by the arquitects Jorge Mario Jáuregui, Cecilia Benites and Fabiana Castillo, having the operational support of the Prefecture of Tirana.
In the peripheries of Tirana the sprawl is clear, the dispersion of the urban limits in a mess where the urban constructions are subadded to the rural, affects the urban reality as much as the rural one. Borders that are no longer neither urban nor rural. A negative dissolution.
From 1990 to 2000, Tirana grew of 230,000 to 600,000 inhabitants and it´s growing process continues, mainly in the suburban areas, where the constructions are mixed with rural agricultural fields.
Among the various assets that the city of Tirana and its inhabitants present today, we've identified some of the most evident:
§ The majestic amphitheater of mountains
§ The clear perception of the main axis (boulevard and treated sector of the Lana river)
§ The potential of the existing conditions of growth
§ The existence of many options of nature enjoyment very close to the city
§ The manageable scale of the different parts of the city, even the proximity of the periphery
§ The potential of forces in action (that need to be properly channeled)
§ The perception of the necessity of immediate actions, searching for the confluence of the public power and the community.
Additionally factors like the pleasant climate, the intensity of the street activity and the strong identity and energy of its people suggest a favorable ground for structural changes.
In our stay in Tirana we have visited four of the informal areas (Fusha e Aviacionit, Allias, Qyteti Studenti and Lapraka), identifying general and specific issues to be addressed in each of them, as follows:
General issues
In all areas there is an urgent need for:
§ Street system revision (including ongoing construction)
§ To guarantee better conditions of urban life to all citizens
§ To democratize the enjoyment of urbanity and stimulated community participation
§ To improve the overall connection of the urban fabric
§ To guarantee accessibility to every place
§ To encourage social and communitarian development
§ To contribute to improve environmental quality
§ To promote spaces where economical, productive, research, and formation activities converge
§ To generated genuine work sources
§ Protection of reminiscent and creation of new green areas
§ Public spaces / Squares
§ Urbanistic and social services
§ Planting trees in all the streets
§ Pedestrian lighting
§ Street walls systematization
§ Urban furniture
§ Street name designation with signage


Specific issues

In Allias
§ Treatment of the Tirana river and protection of the adjacent green areas and hillsides
§ Industrial building adaptative reuse (milk and salami factories among others)
§ Identification of specific urban and social interest projectual fields
§ Utilization of existing large open space in the industrial strip parallel to 5 Maji street (Olympic Village, Kindergarten, Communitarian Center, Social services, etc.)
§ Utilization of the existing lot (in the convergence of Dibres and Unaza streets) for cultural activities and services.
§ Insertion of three Communitarian Squares (as per indicated in the preliminary sketch for the area elaborated during our visit)
§ Incorporation of new bridges on the Tirana river to connect with Babrru