documenta 12
Exposição no AUE Pavillon e instalação na Kulturbanhof

Text of Pamphlet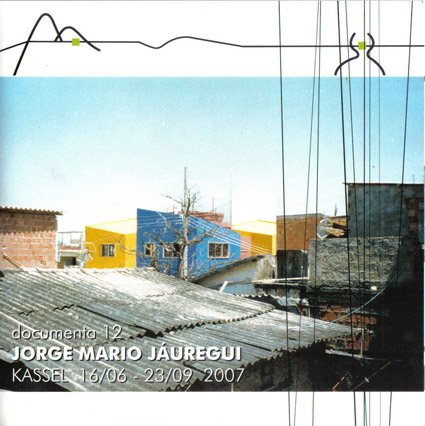 Folder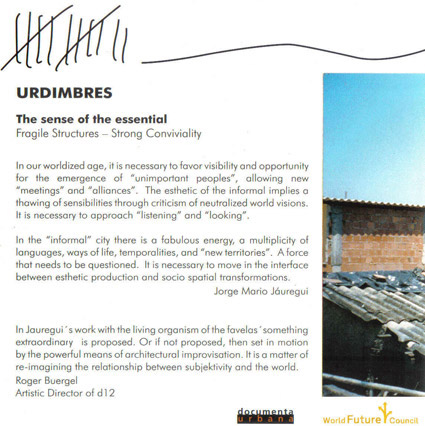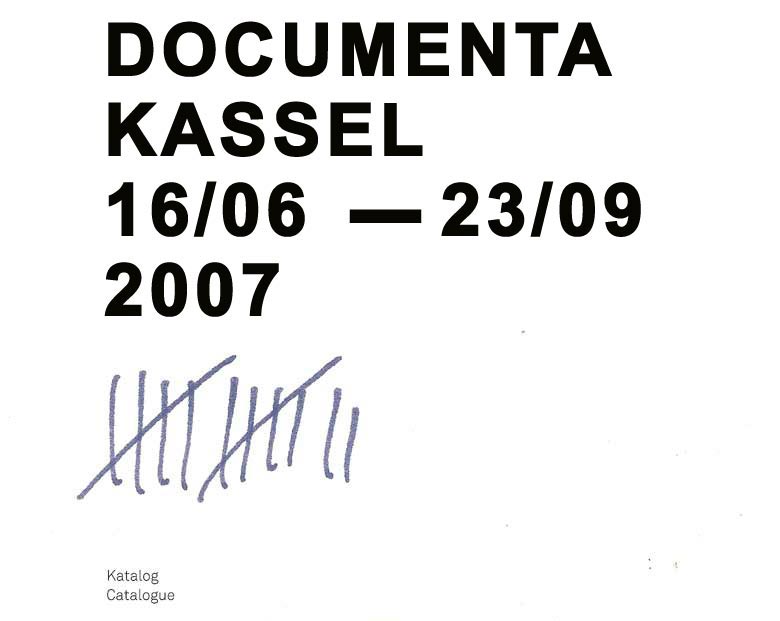 Página nº 264 del catálogo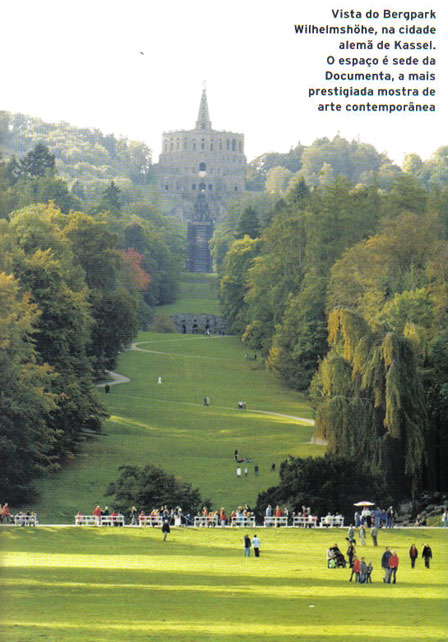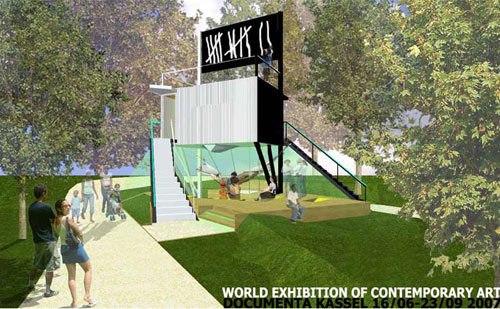 Perspectiva del objeto en el parque
URDIMBRES
El conjunto de dibujos, croquis, textos y fotografías que componen parte de la presentación en la 12 DOCUMENTA constituyen las huellas del proceso de gestación de las ideas de proyectos de escala urbana; la primera intuición, el registro de las anotaciones iniciales. Son el rastro de las fuerzas que atraviesan un organismo complejo como el de las favelas, con sus potencialidades y sus aspectos negativos; lo manifiesto y a veces lo que apenas está en laténcia. El conflicto entre el material y el asunto, la tensión entre ellos.
Las favelas constituyen especies de organismos vivos, con voluntad propia, donde acaso y necesidad se imbrican sin fin, exigiendo para descifrarlas, un acercamiento desde varios "frentes" simultáneamente, a ser hecho " en camadas ". Envuelve el desafío del tamaño y la domesticación de la escala.
La favela es el lugar de un puro devenir.
La lectura de la estructura del lugar ( registros gráficos de carácter topológico ) y la " escucha " de las demandas ( según el método freudiano de la asociación libre y la atención flotante ) constituyen el dispositivo fundamental del approach proyectual.
El proyecto urbano funciona, en esta perspectiva, como una estrategia de reconquista de la ciudad y como un instrumento para manejar los conflictos.
El campo de lo urbano contemporáneo define un espacio de múltiples intersecciones, una urdidura donde diferentes disciplinas se entrecruzan.
urbanismo, arquitectura, paisajismo, psicoanálisis, filosofía, arte, sociología, ingeniería, se interceptan con las problemáticas del sujeto y con las cuestiones legales referidas a la tenencia de la tierra y a los aspectos de seguridad ciudadana. Lo que implica absorver, fusionando categorías consideradas heterogéneas o contradictorias. Implica también lidiar con un universo probabilístico relacionado con flujos: de informaciones, de personas, de vehículos y de mercaderías.
Imaginar futuros posibles deseables a partir de lo cual intervenir en el presente, demanda articular lo simbólico, lo imaginario y lo real, al mismo tiempo que lo físico, lo social y lo ecológico, en un proceso donde lo formal y lo informal se entretejen posibilitando un juego de resonancias.
Jorge Mario Jáuregui

Born in Rosario (AR), lives in Rio de Janeiro (BR)
Exhibitions: Chicago Architecture Foundation, Chicago, 2006 (USA); "Design for All: New Public Spaces for Recreation", Van Alen Institute, New York; "Open New Design for Public Space", Val Alen Institute, New York, June 12 to October 31, 2003; Verônica Rudge Green Prize in Urban Design, Harvard University, Graduate School of Design (GSD), Gund Hall, 48 - Quincy Street, Cambridge - MA, 05/12/2000 to 12/01/2001; 8th Architecture Biennale Venice, 2002 (IT); 10+10+10, Rio - Rosário - Lisboa, Ordem dos Arquitetos, Lisboa, Portugal, 16-31/07/2001; "Interseções" , Galeria Antonio Berni, Instituto Cultural Brasil-Argentina, Rio de Janeiro, 29 de abril à 30 de maio de 2003.
General Introduction
The architect and town-planner Jorge Mario Jáuregui has become known for his effective interventions in the favelas of Latin America, in particular for the Favela Bairro Programme created by the city of Rio de Janeiro in the mid-1990s. The infrastructural measures to raise the quality of life are the result of intense research and place the moment of participating and having a say in decisions in the forefront. In doing so, Jáuregui´s approach is influenced by psychoanalysis, sociology and philosophy.
He works at the interface between the formal and the informal city, the officially planned one as well as the unplanned one growing on the outskirts, in order to establish new links within the existing framework. And so he removes violence from the interface. Jáuregui develops a topology that is geared neither to rejection nor to integration, and re-considers urban functions.
Initially, he listens to the residents, reads the layers of the city, the movement, land uses and flows, the transport links, learns to understand the life of the people in the barrios, their desires, the resistance of the places themselves. This entails a respectful approach to what exists and co-operation with local, even Mafia-like, groups.
Jáuregui ´s intention is to carve out urban centers, establish new centers for living together and, in this way, develop a new kind of relationship between the public and the private. In spite of strong social dynamics between the residents of the favelas, the living space is predominantly private, there is no public territory.
Jáuregui creates public facilities and places where common ground and identity can be established, whether at football matches, dancing samba or celebrations.
He identifies the special forms of the favelas and transfers their improvised aesthetics to his architectural forms.
documenta 12 Work
At documenta 12 his urban and architectural sketches and plans, are on display.
List of Participants:
- Sonia Abián Rose
- Ferran Adrià
- Saâdane Afif
- Ai Weiwei
- Halil Altindere
- Eleanor Antin
- Aoki Ryoko
- David Aradeon
- Ibon Aranberri
- Monika Baer
- Maja Bajevic
- Yael Bartana
- Mária Bartuszová
- Ricardo Basbaum
- Johanna Billing
- Cosima Von Bonin
- Trisha Brown
- Graciela Carnevale
- James Coleman
- Alice Creischer
- Danica Dakic
- Juan Davila
- Dias e Riedweg
- Gonzalo Díaz
- Atul Dodiya
- Ines Doujak
- Lili Dujourie
- Lukas Duwenhögger
- Harun Farocki
- León Ferrari
- Iole de Freitas
- Peter Friedl
- Poul Gernes
- Andrea Geyer
- Simryn Gill
- David Goldblatt
- Sheela Gowda
- Ion Grigorescu

- Grupo de Artistas de Vanguardia
- Dmitri Gutov
- Romuald Hazoumé
- Hu Xiaoyuan
- Sanja Ivekovic
- Luis Jacob
- Jorge Mario Jáuregui
- Amar Kanwar
- Mary Kelly
- Bela Kolárová
- Abdoulaye Konaté
- Bill Kouélany
- Jirí Kovanda
- Sakarin Krue-On
- Zofia Kulik
- Kwiekulik
- Louise Lawler
- Zoe Leonard
- Lin Yilin
- Lee Lozano
- Lu Hao
- Churchill Madikida
- Iñigo Manglano-Ovalle
- Kerry James Marshall
- Agnes Martin
- John McCracken
- Nasreen Mohamedi
- Andrei Monastyrski
- Olga Neuwirth
- J. D. 'Okhai Ojeikere
- Anatoli Osmolovsky
- George Osodi
- Jorge Oteiza
- Annie Pootoogook
- Charlotte Posenenske
- Kirill Preobrazhenskiy
- Florian Pumhösl
- Yvonne Rainer

- Ck Rajan
- Gerhard Richter
- Alejandra Riera
- Gerwald Rockenschaub
- Lotty Rosenfeld
- Martha Rosler
- Luis Sacilotto
- Mira Schendel
- Dierk Schmidt
- Katerina Sedá
- Allan Sekula
- Ahlam Shibli
- Andreas Siekmann
- Nedko Solakov
- Jo Spence
- Grete Stern
- Hito Steyerl
- Imogen Stidworthy
- Mladen Stilinovic
- Jurgen Stollhans
- Shooshie Sulaiman
- Oumou Sy
- Alina Szapocznikow
- Tanaka Atsuko
- David Thorne
- Katya Sander
- Ashley Hunt
- Sharon Hayes
- Andrea Geyer
- Guy Tillim
- Tseng Yu-Chin
- Lidwien Van De Ven
- Simon Wachsmuth
- Xie Nanxing
- Yan Lei
- Zheng Guogu
- Artur Zmijewski
- ROGER M. BUERGEL, Artistic Director of Documenta 12
- RUTH NOACK, Curator of Documenta 12
Documenta 12
Fué una gran emoción caminar por las calles, llenas de gente, andar en el tram y visitar los distintos locales de las exposiciones durante la primera semana de abertura. Un clima especial habia tomado cuenta de la ciudad, diferentemente de las otras ocasiones en que habia estado durante la fase de preparacion de mi propuesta.
Los diferentes acentos, la variedad de lenguas escuchadas, los tipos físicos, el rostro de las personas, alegre, constituiam una atmósfera contagiante. Y generosa. Al subir al tram uno tenia a disposición colgados en las ventanillas, auriculares que informaban de la documenta y de lo que la ciudad ofrece.
Las diferencias entre la documenta de Kassel y la bienal de Venecia son evidentes.
Venecia es la opulencia de la ciudad acuática, con sus palacios, puentes, plazas y rica configuración urbana, y tambien del número de expositores; alrededor de 500.
En Kassel es mas el despojamiento lo que la caracteriza, anunciado ya desde el logotipo, y también con un número mucho menor de participantes; 113 exactamente.
En Kassel se apuesta mas a la reflexión y al pensamiento, y por eso, es culturalmente mas politizada.
El estímulo a la reflexión es parte de las cuestiones y preguntas lanzadas por el director artístico de la documenta 12, Roger Buergel y por la curadora Ruth Noack: ¿es la modernidad nuestra antiguedad?, ¿que es la mera vida?, y ¿cual es el papel del arte en la sociedad contemporánea?
Ellos buscaron claramente, como pudo percibirse en el discursso de abertura y en el debate con el público que hubo después de la presentación el dia de la inauguración, un deslindamiento entre las obras y cualquier tentativa de identificación con la nacionalidad de los autores, en el contexto de la "migración de las formas".
Para Buergel, las obras dentro de una exposición son elementos que interactuan para producir un significado, y entre ellas existen conexiones que producen relaciones de contiguidad que el espectador debe encontrar y descifrar. Y esto a pesar del volumen de trabajos presentados, del tiempo demandado para su absorción, y del hecho de que el arte (o este tipo de convocatorias) vayan a camino de convertirse en un espectáculo de masas, donde el visitante debe realizar un gran esfuerzo para llegar al nivel de reflexión y contemplación que le permita registrar lo expuesto (la documenta 12 albergó cerca de 500 piezas).
La propia exposición fué concebida como un "medio", como una "composición" plástica autónoma donde las obras pudiesen interactuar poniendo en relación conceptos y produciendo significados, en un espácio en el cual obra y público se desafian y califican mutuamente.
Como un "mover", creando sus propias interpretaciones y asociaciones, el espectador (o participante) se desliza entre las obras como en el interior de un gran catálogo de individualidades, cada uno con su carga formal y plástica, con un amplio trasfondo social y político que a veces produce complementaciones, otras veces repeticiones (diferentes) y otras, atracciones o rechazos.
La documenta de Kassel tiene la reputación de ser un evento original de carácter conceptual, y comprometido socialmente. Y es un gran mérito de la documenta 12 desviar la atención para fuera del polo Nueva York, París, Londres, Berlín, con un sentido geograficamente abarcador.
Jorge Mario Jáuregui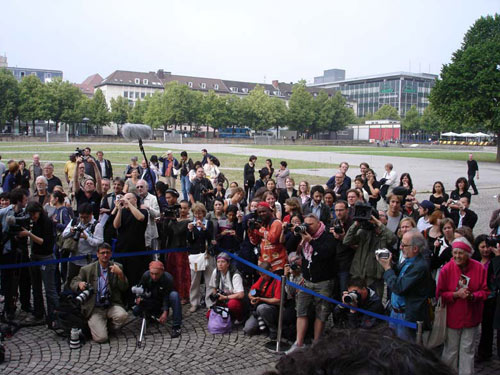 Sector de los 2700 media presentes el dia de la inauguración


Apertura oficial de la Bienal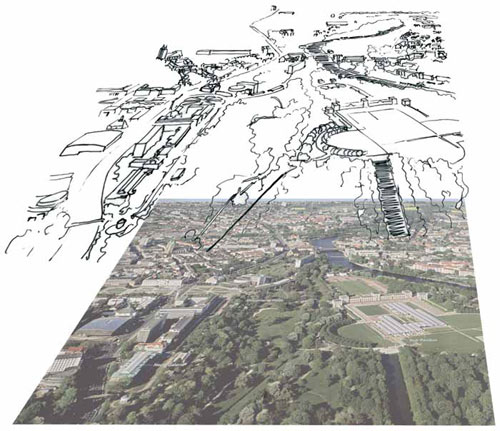 Vista aérea de Kassel con el AUE Pavillon

Lugares de la documenta 12

Vista del AUE Pavillon

Entrada al centro de exposiciones del AUE Pavillon

Vista de la Orangerie con el AUE Pavillon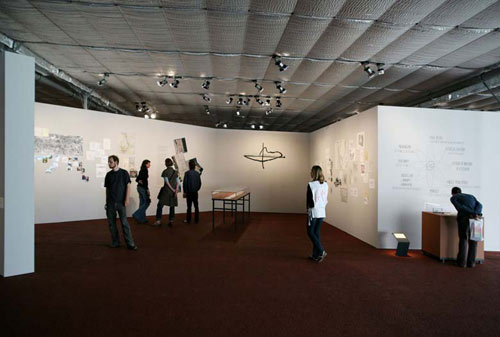 Vista general del espacio de exhibición en el AUE Pavillon

Detalle de la sala de exhibición

Detalle del cuaderno desdobrable con croquis y textos

Vitrina con la banda de Möebius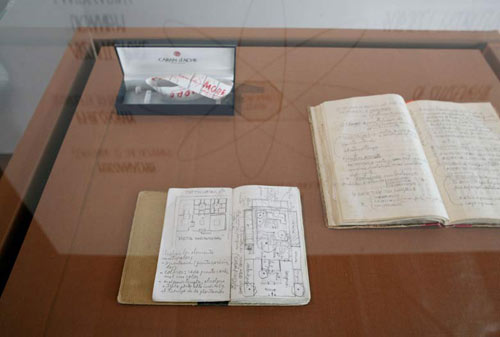 Detalle de la vitrina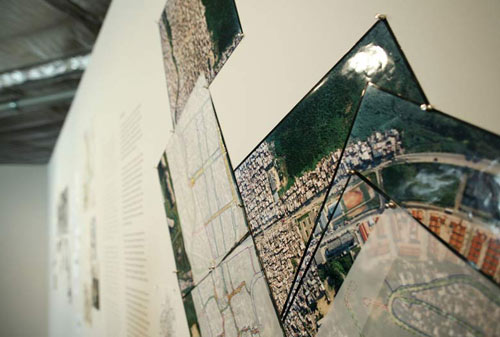 Detalle del panel

Detalle
Textos del panel ( English | Deutsch )
URDIMBRES
The drawings, sketches, texts and photographs of this presentation are traces of a process of development. They are ideas for urban projects and are meant to offer a first glimpse and a register of recordings. What becomes discernible are the traces of those forces that cross the complex organism that the favela is.
The favelas are a kind of living organisms, they reveal a will of their own. This can be read from their negative aspects such as violence and drug trafficking, but also from their openness and potentiality. There is a tension between these two poles, and in order to decipher this an approach is necessary that must simultaneously take place at different fronts. The scale and size of the favela pose a task that must be tackled. The favela is pre-eminently a place of becoming. The core of our approach is characterized by both the examination of the location's structure and listening to the wishes of the residents – in analogy to the Freudian method of free association and free-floating attention. From this perspective, the urban project is understood not as a strategy to reclaim the city, but as an instrument to deal with conflicts. The urban playing field is the result of innumerable interstices in which the most various disciplines such as urbanism, architecture, landscape planning, psychoanalysis, philosophy, art, sociology, engineering, and others mingle. They deal with the problems of the subject in the city and set them in relation to the community. So as to be able to picture desirable prospects for the future as the basis for intervening in the present, it is necessary to articulate the symbolic, imaginary and real, as well as the physical, social and ecological. This is to take place in a process in which the formal aspect of the city and the informal aspect of the favela merge and allow a play of resonances.
Jorge Mario Jáuregui
URDIMBRES
Die Zeichnungen, Skizzen, Texte und Fotografien dieser Präsentation sind die Spuren eines Entstehungsprozesses. Es handelt sich hierbei um Ideen für urbane Projekte, um eine erste Vorahnung und ein Register von Aufzeichnungen. Erkennbar werden die Spuren jener Kräfte, welche einen komplexen Organismus, wie es die Favela ist, durchkreuzen.
Die Favelas sind eine Art Lebewesen, sie zeigen einen eigenen Willen. Dies lässt sich an ihren negativen Aspekten wie etwa Gewalt und Drogenhandel aber auch positiv in ihrer Offenheit und Potentialität ablesen. Zwischen diesen beiden Polen herrscht Spannung, und um diese zu dechiffrieren, ist eine Annäherung notwendig, die zur gleichen Zeit an verschiedenen Fronten stattfinden muss. Das Ausmaß, die Größe der Favela, ist eine Herausforderung, die es zu überwinden gilt. Die Favela ist der Ort des Werdens par excellence. Den Kern unserer Herangehensweise charakterisiert sowohl die Auseinandersetzung mit der Struktur des Ortes als auch das Hören der Wünsche der BewohnerInnen – analog der Freudschen Methode der freien Assoziation und der schwebenden Aufmerksamkeit. Aus dieser Perspektive versteht sich das urbane Projekt nicht als eine Strategie, um die Stadt zurückzuerobern, sondern als ein Instrument, mit Konflikten umzugehen. Das Spielfeld des Urbanen resultiert aus einem Raum mit unzähligen Zwischenräumen, in denen sich verschiedenste Disziplinen wie Urbanismus, Architektur, Landschaftsplanung, Psychoanalyse, Philosophie, Kunst, Soziologie, Ingenieurwesen und andere vermischen. Sie beschäftigen sich mit den Problematiken des Subjekts in der Stadt und setzen diese in Beziehung zur Gemeinschaft. Um sich mögliche, wünschenswerte Zukunftsaussichten ausmalen zu können, auf deren Basis man in die Gegenwart eingreift, ist es notwendig, sowohl das Symbolische, Imaginäre und Reale zu artikulieren, als auch das Physische, Soziale und Ökologische. Dies soll in einem Prozess geschehen, in dem das Formale der Stadt und das Nicht-Formale der Favela ineinander übergehen und ein Spiel der Resonanzen ermöglichen.
Jorge Mario Jáuregui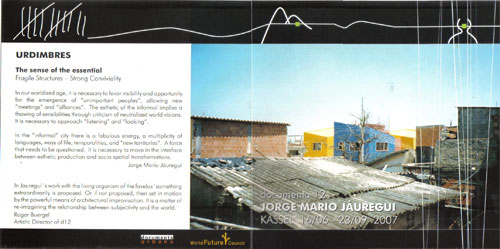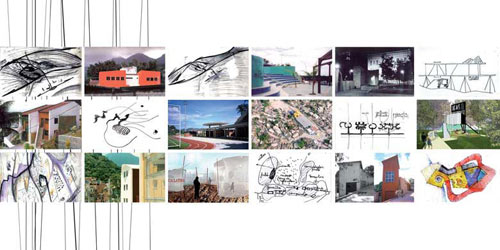 Pamphlet of the exhibition


Los temas de la Documenta 12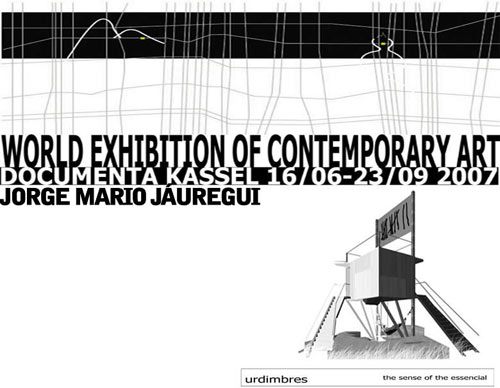 Vidigal como referencia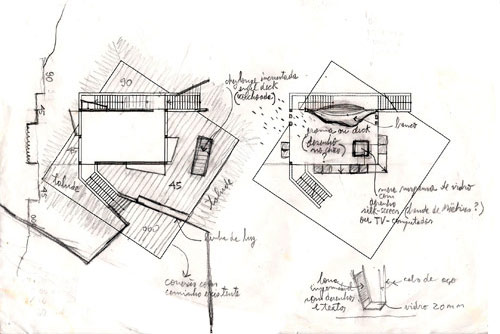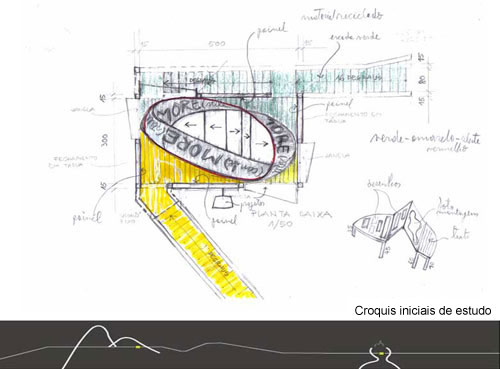 Croquis del estudio del objeto


Planta nivel 0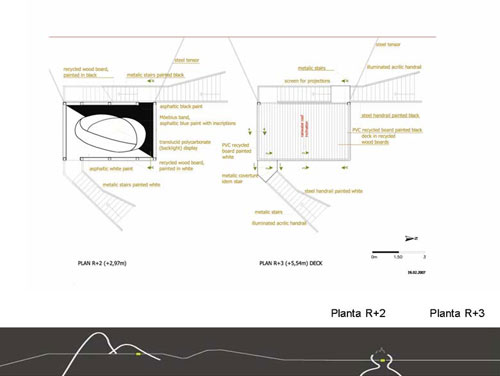 Plantas niveles +2,97 y +5,54


Planta de techos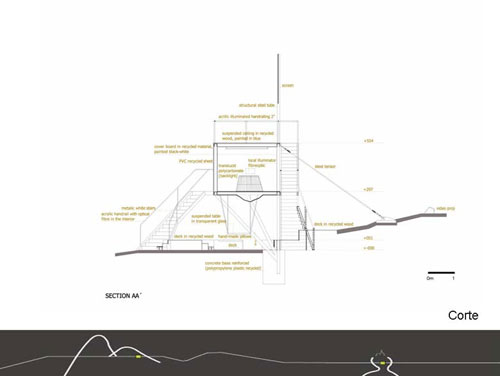 Corte
Maquete do objeto apresentado na documenta 12

, Kassel, Alemanha
Exhibition Team / Rio de Janeiro
Estudantes
Marie Anne Ferreira, École d´Architecture de Paris Val de Seine (EAPVS)
Joana Gomes, Faculdade de Arquitectura da Universidade Técnica de Lisboa
Inés Guzmán, Universidad del Diseño de Costa Rica
Inês de Azevedo Isidoro, Technische Universitãt Berlin
Silvia Manuela Branco Jorge, Faculdade de Arquitetura da Universidade Técnica de Lisboa
Stephane Juan, Ecole Paris-Malaquais (ENSAPM)
Elise Le Duc, École d'Architecture de Bretagne
Joana Ribeiro, Faculdade de Arquitectura da Universidade Técnica de Lisboa
Joana Alves Thedim, Faculdade de Arquitetura da Universidade Técnica de Lisboa
Ana Margarida Monteiro Ramos, Faculdade de Arquitetura da Universidade Técnica de Lisboa
Dana Víquez, Universidad del Diseño de Costa Rica
Sarah Lahmadi, França

Arquitetos
João Caeiro, Portugal
Paula Valentini, Argentina
Bridgett Shank, Estados Unidos
Raffaella Falchi, Estados Unidos
Maxime Caron, França
Murilo Barbieri, Brasil

Urbanista
Andrew Vesselinovitch, Estados Unidos

Graphic Design (Pamphlet)
Caroline Khadige, Líbano
Exhibition Team / Kassel
Tanja Steden
Lisa Kietzke
Danuta Ratka
Klaus Schaake
Steffi
Video Production
Kinotitlan Productions
Video Production
"Urdimbres: Megacities, Megafavelas, Subjectivity"
Jorge Mario Jáuregui and Bernardo Pinheiro
Documenta Dokumentieren
Documenta 12 in Kasssel, Germany
Jorge Mario Jáuregui at the Documenta 12
Director Héctor Jesús Gutiérrez Rodríguez
Canal Arte (France - Germany)
(references to Jorge Mario Jáuregui work)
"Art and Cosmos.
The Return of the Political at documenta 12"
Documentary by Tilman Jens
"documenta" (ARTE / HR)
Arte.Media partner of documenta 12
Revista Cultura e Pensamento nº 2, São Paulo, Outubro/Dezembro 2007
Sponsors
Hübner